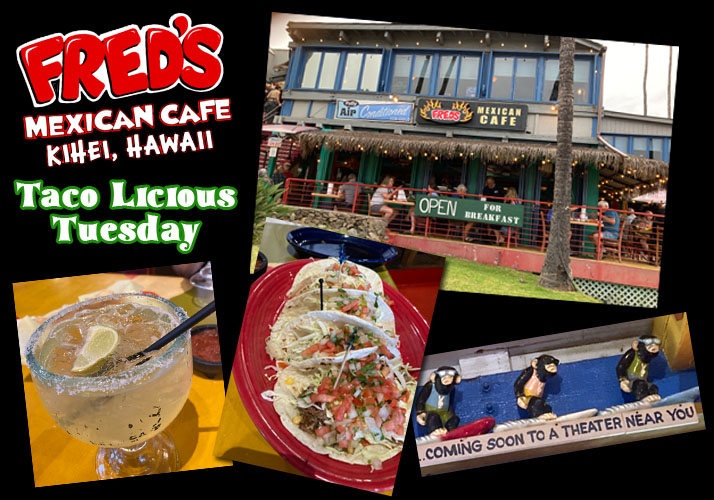 On a misty April Taco Tuesday night, we hit up the popular "Taco Licious Tuesday," at Fred's on Maui. We had to wait a short 10 minutes. The loud and energetic café was covered in mass amounts of Mexican beach paraphernalia; fun weathered beach signs, colorful surfing monkey statues, giant plastic replica fish, etc. "Viva la Mexico!" The best spots to sit is on the deck, but Fred's has a full bar too with plenty of TV's to watch the game.

We each enjoyed a Double Margarita (20 oz.) off the TLT Happy Hour menu, it tasted good, it quenched our thirst, but there wasn't a lot of alcohol in it, but what do you expect for only $6.50. (Last time we had the Cadillac Margaritas, which were boozy and delicious, but not on the Tuesday specials list.) They do have $7 Hornitos shots for Taco Licious Tuesdays. The house chips and salsa were satisfying, but I'd like to try their habanero salsa, which is supposed to bring blistering heat.

The Tacos were "Muy Bueno!" They served them Family Style, and brought us an extra plate. I like this style, less dishes, less waste and time. (There's nothing worse than going out to eat and the establishment uses lots of plastic cups and plastic utensils, even too mush paper products can be disturbing.) Although the Cajun Shrimp was not very spicy, it was still my favorite. Seasoned popcorn shrimp with cabbage and pico de gallo on a lightly grilled flower tortilla. The Kalua Pork was rad too, it was the fattest taco and only $3.50. And their Pescado, grilled fish, was very delicious, but I think Coconuts, just next door, has the best fish tacos on Maui with the mango salsa.

Fred's "Taco Licious Tuesday" was fire. The service was fast and friendly, using state of the art technology for all ordering and financial transactions, and the Tacos were "Magnifico!" We all know what pairs the best with booze on a Tuesday night… TACOS!!!
When on Maui, enjoy the taco fiesta at Fred's!!!
Fred's Mexican Café
2511 S Kihei Road, Suite 201, Kihei, HI
April 2023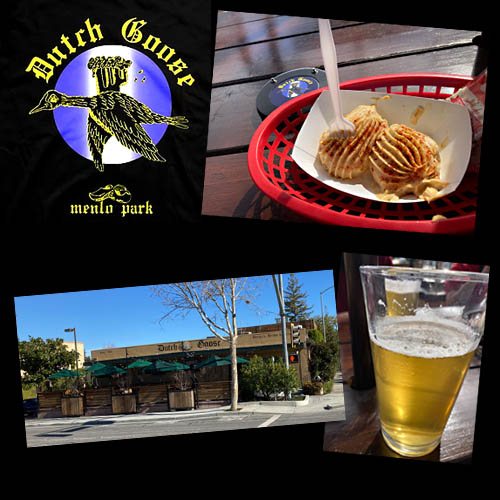 Snuggled in the Menlo Park foothills of California is a definitive spot where the locals like to chill, drink beer and feast on traditional American pub grub. The Dutch Goose has been serving booze and grinds for over 55 years, and it's still popp'n today. The friendly sports bar, with plenty of TV's, has a rustic vibe with positive energy. Equipped with lots of picnic benches, inside and outside, this place is perfect for large loud groups, and is kid friendly. There's also a game room with a pool table! Parking is not a problem either, with a large lot in the back. The restrooms are clean with modern features, and a random sk8 rat sticker.

The Dutch Goose has a Full Bar, rotating beers on draft and Happy Hour Specials. The service is impeccable, fast, electric and personal. Their famous Spicy Deviled Eggs are the best I've ever had and the Turkey Burger with pepper jack and grilled onions, with a side of their homemade chips, is absolutely delicious. I recommend the Ballast Point Sculpin IPA to accompany the Turkey Burger.

Take a dive into history and grab and a beer and burger at the famous Dutch Goose, you just might run into Mark Zuckerbucks.
The Dutch Goose
3567 Alameda de las Pulgas, Menlo Park, CA
February 2023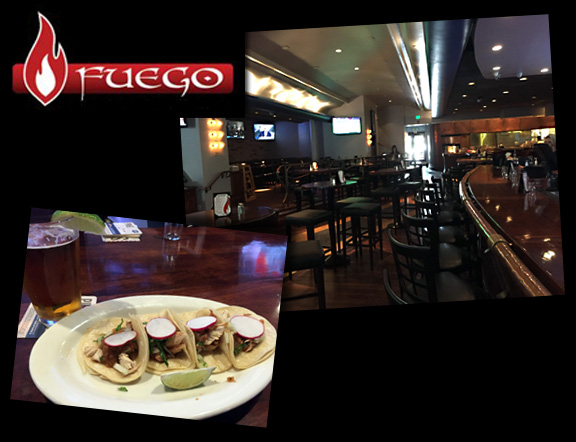 Fuego Grill and Sports Bar is the clutch spot in the South Bay to watch that big game. With 26 large Flat Screen T.V.'s , plenty of open dining space and a beautiful long elegant bar, The Fuego Grill is set up perfect. Fuego Grill supports all the local teams and host fight nights too. The bartenders are friendly and fast, they keep the bar lit. It's also a great place to dance with DJ's.
The food is magnificent and affordable, perfect bites for the killer game. (Happy Hour prices for food and drinks too.) I had the delicious Potato Skins and a Laugaunitas IPA for under $20! (Always tip your bartender.) Potato Skins: Topped with Cheddar, Bacon Bits, drizzled with Creme and Spicy Ranch $10.95 and a Lauganitas IPA. They have quite the beer selection and a full bar.
They are also known for their sensational Taco Tuesday. Street Tacos: A la Carte, 4 Mini Tortillas Tacos with Cilantro and Onion, drizzled with house made salsa. Steak; Seasoned Grilled Flank Steak. Or Carnitas; House made pulled pork. Or Chicken; shredded chicken breast. $11.95 these were fire. Definitely recommend Taco Tuesday.
Need to plan a large event? Fuego is the perfect venue! Fuego, located in the heart of Sunnyvale, with a Rooftop Terrace, beautiful open floor plan, full updated bar, and private restrooms. It's the perfect venue to host parties as small as 40 and as large as 300 or more people.
Fuego Grill and Sports Bar is conveniently located near the train station and is wheelchair accessible. They accept credit cards and offer take out too.
Fuego Grill & Sports Bar
140 S Murphy Ave, Sunnyvale, CA
December 2018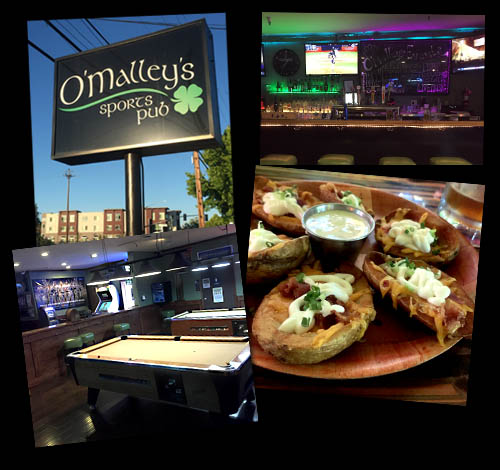 O'Malley's is that secret dive that provides. They got quick bartenders, over craft 20 beers on tap, good pub grub and live music. What more could you ask for in a dive?
Tucked away off Middlefield Rd. and Rengstorff near 101 is a tiny little joint called O'Malley's, the old Francesca's in Mountain View, CA. O'Malley's has a friendly staff of quality bartenders pouring rotating local craft beers from San Francisco to Palo Alto. Their craft beers are a little pricey but they also have the usual domestic choices too. My Lauganitas IPA was $6.50. I enjoyed a $3 PBR my next round. (They do have a full bar, but your best bet is to order beer when it gets really crowded.) Happy Hour is 3pm to 6pm with some rotating favorites.
The grinds were good too. I enjoyed their potato skins with cheese, sour cream and bacon bits, including ranch dipping sauce. Deeee-licous. Only $6.50 for 6 large halves! Homemade potato chips and sweet potato tots are some of the other specialties on the menu, also only $6.50. They even have three kinds of wings! The burger and fries were a big hit too, only $10. This is a good liquid lunch and munchie spot if you can steer clear of the Google geeks.
The place is usually packed Thursday through Saturday, with live music on Friday and Saturday nights. Local alternative bands are the norm, metal, punk rock, ska, phunk, soul, rock n' roll. They also have DJ's, Karaoke and even paint night!
They have two pool tables, beer pong (sometimes), a shuffleboard table, a jukebox and over 10 big screen TV's. This place screams Authentic Bay Area Sports Fans! The place was packed for the 2016 Warriors and Sharks playoffs. They even host the Pay Per View fights.
O'Malley's accepts all major credit cards with state of the art cash registers. They have their own parking lot, with plenty of parking, they allow dogs and is wheelchair accessible. They also have an outdoor patio where you can smoke. They only have one toilet for the men and one for the women, but they are clean.

O'Malley's Sports Pub & Grub
2135 Old Middlefield Way, Mountain View, CA
June 2016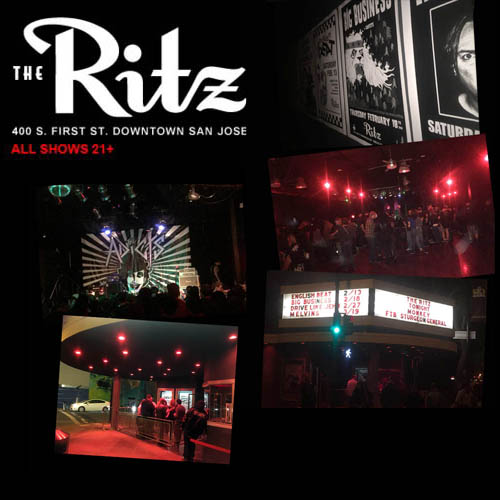 Corey O'Brien is the genius behind the thriving San Jose alternative music scene and he and his friends have the hottest venue in the South Bay to host some rad shows. Corey is a South San Jose native who went to Gunderson High in the early 80's, who was a was a regular and worked at the F/X nightclub, one of the many previous clubs before The Ritz. Corey and his crew have an appetite for the blood, sweat and guts-type of music that leaves an impression. Good stories about shows you can brag about to your friends. Corey's 12 year run owning the popular Blank Club is where he got this reputation. Seeing such great shows including Agent Orange, The Donnas, The Inciters, Fishbone, Guttermouth, Reverend Horton Heat, The Swingin' Utters, The Untouchables, The Chop Tops, Koffin Kats, just to name a few, in a small tiny bar was epic! But everyone except the fans were not that thrilled with the dinky 188 capacity of the Blank. There was no backstage, bands had to shuffle their equipment from the sidewalk to the stage in between acts. No parking for the bands either. They were losing money and the bands were not happy. It was obvious Corey needed to expand to complete his vision.
San Salvador and South First Street has been an epicenter for underground alternative music for decades. (Politics has plagued the progress for the local and choice music scene.) The Cactus Club (1988 - 2002) was a local staple for many years catering to local and some major traveling acts, now the notable Back Bar occupies that area, and the Agenda Lounge is still a great place to dance.
On the other corner was F/X (1989-1995) then it was the Usual, then Spy, Pete Escovedo's Latin Jazz Club and then Angels. The Space was vacant for 7 years prior before The Ritz when it opened in April 2015. (F/X and the Usual had some good shows.) The Ritz is a spacious 8,000 sq. ft. of darkness with red accented lighting, the way a classic music club should be. Holding 537 fans its equivalent to Slim's or the Independent in SF. The sound system has been fully upgraded from the Blank, including an on stage mixing board, custom sub-woofer and monitors. With professional lighting and special effects, the huge stage is a warm welcome to any band. There's two green rooms backstage, a private bathroom, a shower and even a washer and dryer.
The Ritz has two full bars, the front bar near the lobby seems to be the most popular, when the bands are not playing. The bartenders are always quick and professional, and with 3 to 4 bartenders in the main bar, you never have to wait long for a drink. The PBR is $4, Lauganita's IPA and Sierra Nevada was $7. A stiff Jack n' Coke was $9. (Always Tip Your Bartender.) Not horrible prices when seeing a killer show. There's a VIP section at the back of the main room, private and secluded but a little distant from the stage.
The ticket prices are reasonable too, on average about $10 to $20 and you really don't lose that much intimacy that the Blank provided, the band is right there. Bands like The Faction, The Adolescents, Fu Manchu, The Adicts, Dusted Angel, The Mevins, The English Beat and Sir-Mix-A-Lot. Eclectic and electric, just like the Blank was. Also they have a weekly dance party, with a dj spinning new wave, punk and alternative tracks.
The bathrooms are clean, they separated the sinks from the toilet/urinals so nobody pee's or pukes in the sinks. (I'm sure the ladies have their own sinks.) There's also a small smoking area in front of the venue, you can usually enter and exit with a stamp if you need more space. Parking is not that big of a problem in that area, but public transportation is always an option.
Experience a show at the Ritz, the show you don't want to miss.
The Ritz
400 S. First Street, San Jose, CA

February 2016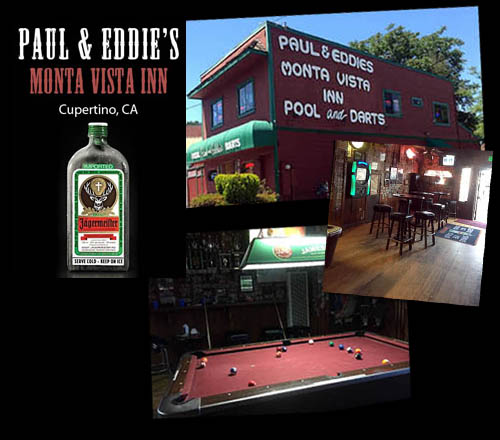 Where do you go for a smooth chilled Jager shot? The #1 Jägermeister bar in Nor Cal! Paul and Eddie's Monta Vista Inn!

Hidden off highway 85 and 280, near De Anza College in Cupertino, CA, is a classic landmark of the Silicon Valley. For over 70 YEARS Paul and Eddie's Monta Vista Inn has been serving beers, booze and friendly smiles. They must be doing something right! All the bartenders are friendly, professional and quick. No screwing around. This neighborly bar screams soul to the core.

Not only is Paul and Eddie's the #1 Jägermeister bar in Nor Cal, but Paul and Eddie's has a full bar and 11 beers on draft, including an eclectic selection of California craft beers and rotating seasonal brews. They even have their signature frozen shot glasses for their "house wine" (Jägermeister.) This cozy bar has two pool tables, darts, a golf video game and a hardworking jukebox. Sometimes they cut a rug at Paul and Eddie's. Want to watch the big game? Paul and Eddie's is not your average sports bar, 7 flat screen HDTV's, one on the heated smoking patio, and lots of Bay Area team enthusiasts. This bar pumps Bay Area spirit covering all the local games. There's also free popcorn from their definitive popcorn machine for those late night munchies. But what really separates this place from a dive is how clean it is. You don't have to hold your breath when you go to the bathroom. Their prices are right too, but you need cash, no credit cards accepted here. They use the two antique cash registers to take your dough. They do have an ATM on the premises. Also the locals have wallpapered the pub with personalized signed dollar bills, a touch of Paul and Eddie's style.

Stop by Paul & Eddie's Monta Vista Inn for a cold craft beer or some of their chilled "House Wine" with a community of friendly locals. Stop snivelling and drink your Jägermeister!

Paul and Eddie's Monta Vista Inn
21619 Stevens Creek Blvd., Cupertino, CA

June 2015
We spend so much time at the Nut House in Palo Alto that we had to feature this gem again. What draws me to this place is the warm hospitality, it's a good old fashioned neighborhood bar. The bartenders are quick and professional, and they don't put up with any shit. The beer is cheap and the outstanding service is always appreciative and deserves to be recognized. Hands down the Nut is the best dive bar in the Bay Area.
On the Nut House crew is a very young and attractive bartender named "Michelle." I happen to catch up with Michelle on a Saturday, the TV was on and the Giants were playing the Orioles. Michelle's Oakland A's lost to the Blue Jays 4 to 5 earlier.
The first thing you notice about this girl is her warm smile, her red curly, sometimes straight hair, and her spunky positive attitude. She also has this stunning piece of artwork tattooed the full length of the back of her body that peeks out of her shirt. The local Palo Alto native, has been tending bar at the Nut for almost 2 years and been working on California Ave. for several years prior.
The bar wasn't buzzing with customers so I asked Michelle if she could mix me one of her notorious Bloody Mary's. She asked if I wanted it spicy and started to add the ingredients into a pint glass. Fresh squeezed lime and lemon, tabasco, horseradish, Worcestershire, pepper and some house vodka. Then she adds ice and tomato juice. Give's it a good shake, strains it, and pours it over ice. One more splash of pepper, two pickled green beans and a green olive for garnish, and the impeccable beverage is complete.
The Bloody Mary was immaculate. It was spicy, delightful and yummy, absolutely perfect for lazy Saturday afternoon. It whisked my hang over away and I felt refreshed and replenished.
Michelle enjoys a cold Strongbrough accompanied by a shot of Hornitos when she's not working. Sometimes she mixes things up with a cider or a Kettle Greyhound. You might catch her at Mervyn's in Mountain View on one of her days off, she digs dive bars.
Michelle also has a very eclectic taste for music but narrowed it down for me to some of her favorites. Stone Temple Pilots, Alice n' Chains and one of her all time faves, Incubus, particularly the album "S.C.I.E.N.C.E."
The 24 yr. old favors the local Brown Rice Sushi restaurant on the opposite side of California Ave. in the alley. The owner takes his time preparing the fish and he's open at various unusual hours, but it's totally worth it. Michelle fancy's the Brown Rice Salad, a dish piled high with fresh fish on a bed of greens.
The Giants win with a three-run rally in the sixth inning to defeat the Baltimore Orioles, 3-2. The bar was starting to stir and it was near the end of Michelle's shift. On her day off day, she was taking her adorable 4 yr. old son to the Santa Cruz Beach Boardwalk with her boyfriend. She cherishes being a mom.
(Michelle retired from the Nut House July 2015.)
Antonio's Nut House
Antonio's Nut House is a home away from home. Everyone loves the Nut. The locals, Stanford students and even the out-of-towners tell their friends, "This is a fun and cheap bar." The proof is on the walls and ceiling, literally. For a small price of $5 you can buy a ceiling tile, take it home and paint it and have it displayed on the ceiling somewhere in the bar. There is some real creative and humorous artwork throughout the bar.
The Nut house has 14 beers on tap, plus several bottled beers too, a full bar and a few wines. They also sell cigarettes, chew and lighters for reasonable prices. It's equipped with 10 flat screen high definition T.V.'s, modern juke box, 3 pool tables, fuse ball, air hockey, a few video games and a pinball machine. You can also play all the lottery games there. There's also some outside seating in front and on the side of the bar for hot summer nights or catering to those that like to smoke. And of course, FREE PEANUTS!
Antonio's Nut House, 321 California Ave, Palo Alto, CA
August 10, 2013
The Nut House Closed permanently in 2020.