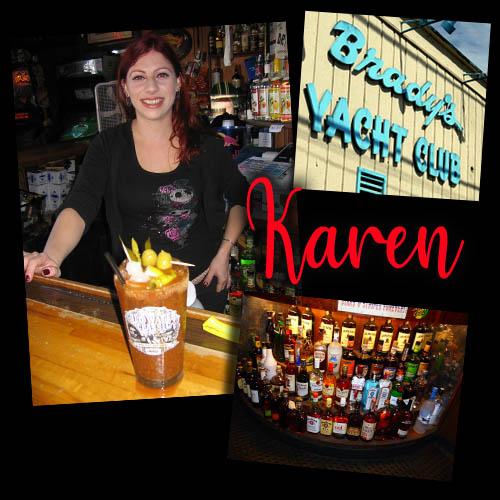 In the heart of Santa Cruz, CA, nestled off Seabright and a few blocks from the beach, is a small bar with a worthy sailors' twist. Catering to the friendly locals, rumors have it Brady's Yacht Club opened the day after prohibition ended. Brady's is better than your average dive, with a full bar and several beers on tap. Brady's best deal is the PB & J, a Pabst Blue Ribbon and a shot of Jameson for only $6.50. (Or the Hamm Job, a Hamm's and a Jameson.) All drinks are on the cheap side, a good place to get ripped without getting ripped off. It has one popular pool table and a very active and eclectic juke box blasting bangers. Brady's also has a few TV's where you can watch the game, "Go Giants!" Brady's is also a dog friendly bar, "bring your pup and drink some booze." The bar is open from 10am to 2am daily and is a cash only bar.

This swampy salty club has some fantastic bartenders, including the new owner Karen, the hot sizzling red head with a warm friendly smile. Karen said with a lot of luck, support from others, and incredible timing she was able to take ownership of Brady's. (Karen is also the new owner of the Jury Room on Ocean Street in Santa Cruz too!) Karen has been serving cocktails at Brady's for 6+ years, specializing in her famous Sunday Bloody Mary's. It's a delicious beverage made as spicy as you desire, with a small pickled vegetable salad. Tasty goodness to cure your hangover and start your Sunday. Karen's been in Santa Cruz for over 12yrs, ever since she went to UCSC to study Anthropology. She's an inspiring artist (painting, drawing and sculpting) with her own studio in Santa Cruz. She enjoys reading a lot and riding her bike all around Santa Cruz. One of her favorite places to eat in Santa Cruz is Suave, and she often visits The Parish Publick House for a Jameson. Some of Karen's favorite juke box artists are Concrete Blond, Tom Waits and Lady Gaga. Karen is an excellent bartender who loves doing what she does, and it shows.

"I feel very lucky and am grateful every day to be a part of such a fun community." -Karen

Brady's Yacht Club
413 Seabright Ave, Santa Cruz, CA

Jury Room
712 Ocean St, Santa Cruz, CA

June 2012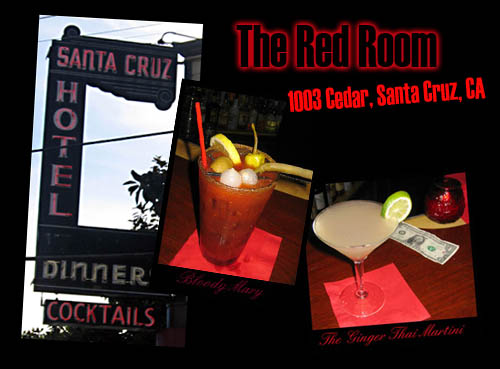 The Red Room is a historic site with a flare of fame in downtown Santa Cruz, CA. The bar is lit with red candles and glows with class. The locals have always enjoyed the Red Room and its home to all the UCSC rookie drinkers too. The fully staffed bar is busy Friday and Saturday nights but service is quick. The Red Room is famous for their Bloody Mary's, a lot of love and time but very tasty. Their Bloody Mary's include a small submerged salad. Their specialty drink is the Ginger Thai Martini with ginger infused vodka. The GT Martini is real smooth, not so heavy, but refreshing and soothing.

The Red Room hosted the reception for the Miss California pageant that was held at the Coconut Grove. The Crown Room is in the back of bar where they crowned Miss California. The bar has several pictures of the contest winners in the front room. The most beautiful portrait is of Faye Lanphier, the first Miss California in 1924. She also won in 1925. She's absolutely beautiful. Some of the strong feminist groups rallied to shut down the pageant in the 1960's and succeeded. The reception was cancelled but The Red Room remained well and alive.

Relax and enjoy a Ginger Infused Vodka Martini at the Red Room.
The Red Room
1003 Cedar, Santa Cruz, CA

December 2009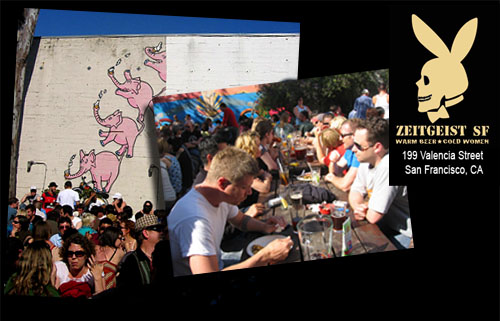 The Zeitgeist in San Francisco is a divey spot with cheap booze, burgers and brats. Enjoy a sunny Sunday in SF at the Zeitgeist with the locals. The small bar and bbq restaurant inside has a wide variety of beers on tap and has a large outside area in the back with many picnic tables and benches. They have a full bar but pitchers of beer is preferred, cash only. The artwork on the walls of the patio is abnormal and original. The paintings gave the place the whimsical character it deserves. The Zeitgeist is conveniently located in the Mission just off the 101. It's wheelchair accessible, has free wifi and is open every day from 9am to 2am. Sorry no dogs. Enjoy a day in the sun drinking beer at the Zeitgeist.
zeit·geist :\tst-gst, zt-\
noun: German, from Zeit + Geist spirit: the general intellectual, moral, and cultural climate of an era
Zeitgeist
199 Valencia Street, San Francisco, CA
August 2009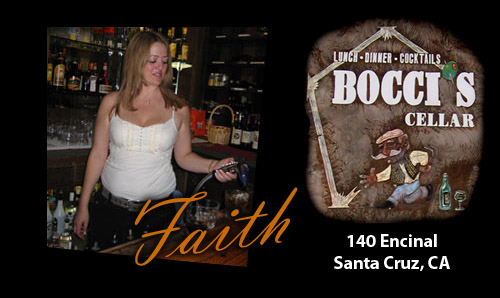 We were determined to return to Bocci's Cellar. Bocci's Cellar is just off highway 9 at 140 Encinal in Santa Cruz, CA. The restaurant/bar is some unique architecture near the railroad tracks. Las Animas Concrete is just behind the bar and Bocci's is usually packed with their workers come happy hour.
We met Faith at about 10pm in the dim lit bar. Faith has been working at Bocci's Cellar for about a year and a half. She managed Club Caution in downtown SC and She's also won Good Times Best Bartender twice. She's a traditional bartender who drinks Fernet-Branca.

Faith hooked us up with one of her legendary cocktail's, Captain Caveman.
Captain Morgan
Malibu run
pineapple juice
Orange juice
served over ice

We asked Faith a few questions:
Three favorite places to eat?
1. Harbor Cafe - 7th Street
2. The Warf House – Filet
3. Bocci's Cellar - Ribeye, mushroom gravy and onions
CD's in the Player?
1. Megadeath - Killing is My Business
2. Chevelle - An Evening with Diablo
May 6, 2008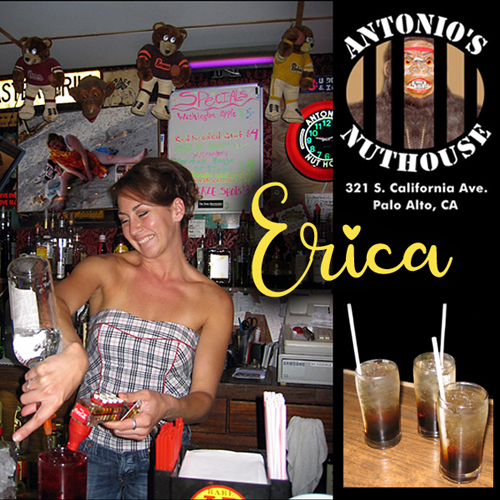 For our first featured bartender there can only be Erica, at Antonio's Nuthouse. She pours strong and tasty drinks. (All the bartenders at Antonio's pour strong drinks.) Antonio's is a little rough around the edges but Erica brings a bit of style when tending bar. Friendly and kind to everyone, it's always fun when she's the Intoxicologist.

The Nut House is known for the infamous "Mind Eraser's" and Erica serves it up right. You slurp it up with a straw, you can't mix it up. The first one done wins. The looser goes around and gets the dirty glasses off the tables. Erica always wins.

Mind Eraser's are made of:
Vanilla Stoli, Kahlua, and soda.
Layered (NOT STIRRED!)
Tall glass, ice, straw, suck!

After 6 years Erica retired from the Nut House in July 2010.

Antonio's Nut House in Palo Alto is a step away from the yuppie downtown scene. Nestled on South California Ave, the Nut House is a place where you can have a good time and not spend a lot of cash. It's usually packed on Thursday, Friday and Saturday nights with the locals and the Stanford College Students. The bartenders are fast, friendly and always keep the evening interesting.
I wouldn't call this place "a Dive," I would call it "a Classic." Peanut shells on the floor and the artistic ceiling and walls full of pictures, advice, jokes and artwork, make the place special. This place is a landmark establishment serving to a middle class crowd. People get along and make new friends at "The Nut."

The Nut House Closed permanently in 2020.